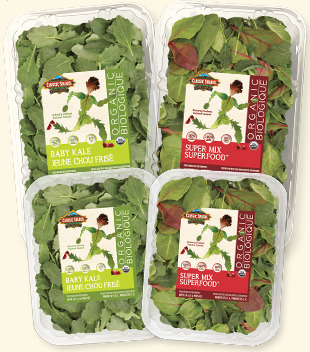 Kale is the ultimate superfood! Its rich dark leaves are packed with agents for lowering blood pressure and reducing inflammation, as well as providing anti-cancer properties.
Super Mix Superfood™ is a delicious blend of baby kale, spinach, chards and beet tops. Rich and full of nutrients, Super Mix Superfood™ is a perfect blend for any meal.
Our pre-washed Baby Kale and tender Super Mix Superfood™ blend are both perfect for salads, soups, stir-frys and smoothies.
Upscale appearance, both flavorful and nutritious
Distinctive clamshell package is easy to merchandise
USDA certified organic by A.S.C.O.
Organically grown in the U.S.A.
Kale & Super Mix
Product
Size
Pallet Size
Baby Kale
5 oz Clamshell
117
10 oz Clamshell
72
8 oz Bag
72
3 lb Bulk
160
Super Mix Superfood™
5 oz Clamshell
117
10 oz Clamshell
72
8 oz Bag
72
**Chopped Kale
10oz Bag
72
**Southern Sauté™
10oz Bag
72
**Available in Conventional Only